Myths speak to us.
They explain mankind's struggles, fears, culture, and the natural world–be it the rhythm of the waves or Earth's rumblings or the phases of the moon. Myths comfort, guide, and inspire. They also advise and caution.
So it was with this understanding of their purpose that I explored the world's most provocative myths in preparation for writing an erotic retelling. 
Writing Legends of Lust was a lot of fun! Reimagining the already sexually charged G-rated myths to Adults Only versions made for some inspired writing and interesting Google searches (but that's another blog topic).  But what I didn't expect was how the point—the 'moral' of the story—of the basic myth itself still emerged loud and clear despite my eroticizing. No amount of sex, smut, or lust could shake its essential wisdoms.
The second unexpected result, however, didn't really hit me until after writing all the stories.
Anyone can read a myth and understand what the story is trying to teach. But rewriting a myth drives the lesson home in ways I had not anticipated. Compare it to watching a chef cook something on YouTube versus making it yourself and then adding your own spicy seasonings. 
In no particular order, the following wisdoms rang loud and clear and helped me rethink and solve my own problems, struggles, and biases.
1. Have patience. Use waiting to make you stronger, more determined, more ready to make your move when you do get a lucky break.
2. Practice perseverance. Get gritty. It builds character. It will make you one tough ( in a good way ) m*****f*****!
3. Hire the best person for the job. And if you can't…
4. Have a backup plan.
5. Sometimes we love the wrong person at the wrong time but it can still work out…
6. Just maybe not forever.
7. Men—make that all people—are easily seduced by a pretty face and great sex—a no brainer, right? So maybe the better life lesson is, be wary of any person that seems too perfect.
8. Don't jump to conclusions about a stranger based on appearances and a first meeting.
9. Taking short cuts may be a quick solution to a problem, but in the end may have consequences that require determination, creativity, and courage to resolve.
10. Friends. You need them. Real friends. The kind that will go the distance with you.
11. Listen to your grandma. She's been around a lot longer than you and knows a thing or two about life.
12. Likewise, listen to your mom. The 'old ways' are old for a reason–they work.
13. Don't chose a mate your mom hates.
14. The best things in life take time, patience, dedication, and a delicate touch to achieve.
15. Sometimes the world isn't ready to accept the real you, but if you're lucky one special someone will.
16. The better you are at your job the more likely you get assigned the most difficult projects…
17. Which often results in you learning something about yourself.
And of course….
18. Don't piss off the gods or Fates, or mess with karma, or whatever you believe. 
Are these mind-blowing truths? Nah, you've heard them all before, but it's always good to be reminded.
I just retell and reimagine them in a romantic, naughty, and provocative way.
**********************************************************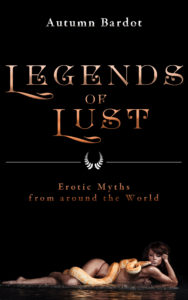 Take an erotic romp through mythology with these romantic and naughty tales of love and lust. Available everywhere.
Autumn Bardot writes smart, sexy erotica and historical fiction about sassy women, spicy sex, and daring romances!
When Autumn's not writing or working, you'll find her hanging out with her very large family, spoiled husband, and pampered rescue malti poo.
Her favorite things include salty French fries, a good foamy cup of coffee, chocolate, and the beach. And a great book, of course!