Sexy vacations. Who doesn't want to go on one?  Actually, any vacation is sexy in my book. I get to visit a new place, learn history, sample different foods, and pretend, if only for a week, that I am a globetrotting Jetsetter. I get to unwind, spend some quality time with hubby, and explore the world beyond our little corner of Southern California.
One of my favorite vacation destinations so far was rambling the countryside of Kalamata, Greece. We went with another couple. Leah spoke pretty good Greek—or so she thought until she conversed with the natives! Oh, and during the flight over the pond Leah read a very early version of By Sword Tip, one of the short stories from Legends of Lust.
Kalamata. Sounds familiar? Yep, that's right. That's where all those yummy Kalamata olives come from.
We went a week before  high season, so the rates were low and the Aegean not yet warm. But no way did a little brisk water stop us from swimming. It was warm once you were in for a few minutes.
This was the view from the outdoor restaurant at our hotel, Filoxenia. Loved it!!
Hubby loved the all-you-can-eat breakfast, lunch, and dinner.
FYI: The beach was rocky and pebbly. We needed water shoes. Not the Greeks, though, who were able to walk the beach and surf barefoot.
The Greek salad was too die!
Recipe for authentic Greek salad:
 chunks of cucumber, tomatoes, very thinly sliced red onion and green pepper, green olives, big chunks of thick toasted bread, a massive hunk of fresh feta cheese, generous amounts of oregano, a few sprigs of dill, and tossed with olive oil and fresh lemon juice.  That's right. Not a single lettuce leaf!
I ate one every day.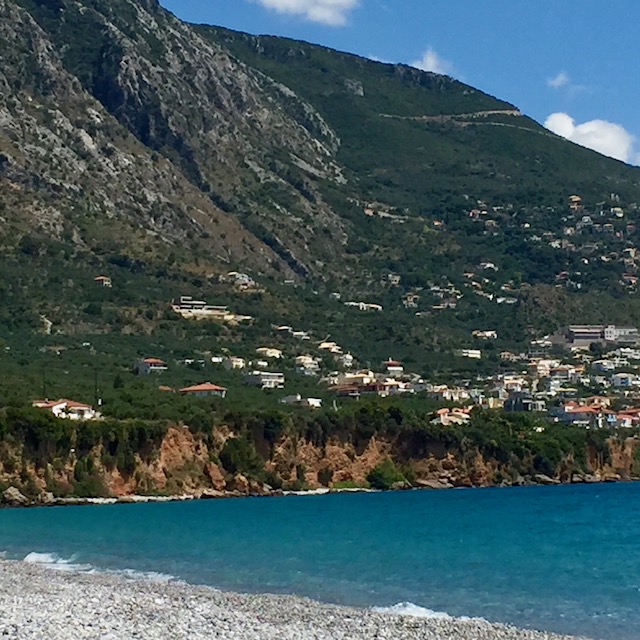 This was the view from our room. Stunning, right?
We made a three-hour side trip to Athens to see the Acropolis. O.M.G.  I wanted to sit there all day and bask in the ancient aura of ancient gods, goddesses, muses, and nymphs. Hubby asked the tour guide all kinds of questions. I merely wanted to feel its history. And if it had been possible, I would have sat down with my laptop and pounded out several stories.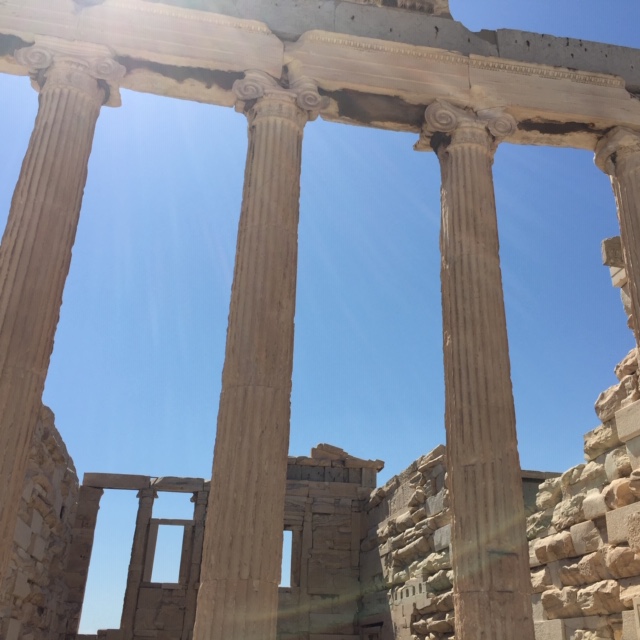 I
was in awe. Tried to imagine how the Acropolis looked in all its glory, before time and wars had left it a mere skeleton, only the bones left for us to admire.
I tried to imagine the people milling about….
their voices and songs to the gods…
Here I was, standing amid history, among the very buildings  dedicated to the gods of Greek mythology!
"Shhh," I told hubby, "I want to hear the gods."
"You're weird," he smiled and began reading the informational placard in front of Zeus' temple.  
Then after the muses took pity on me and whispered a few story ideas, we looked out over the Acropolis hilltop and marveled at the view of Athens from our vantage point.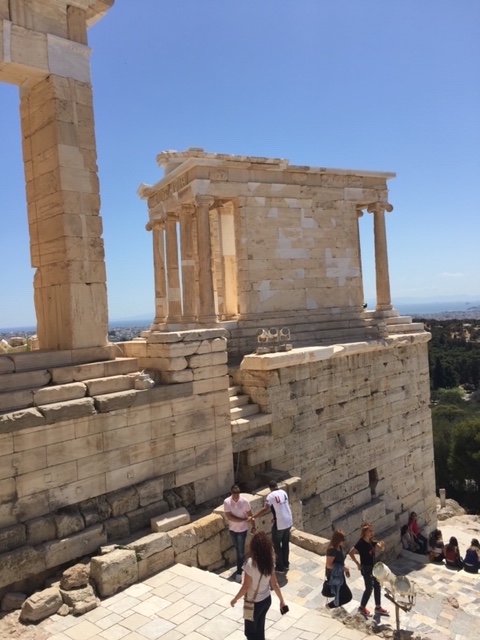 The Acropolis is undergoing renovation to keep the buildings from further decay.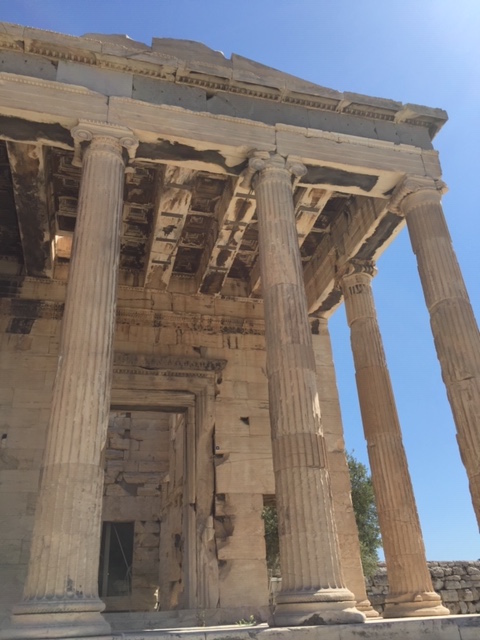 All the buildings and temples were cordoned off. We admired from afar.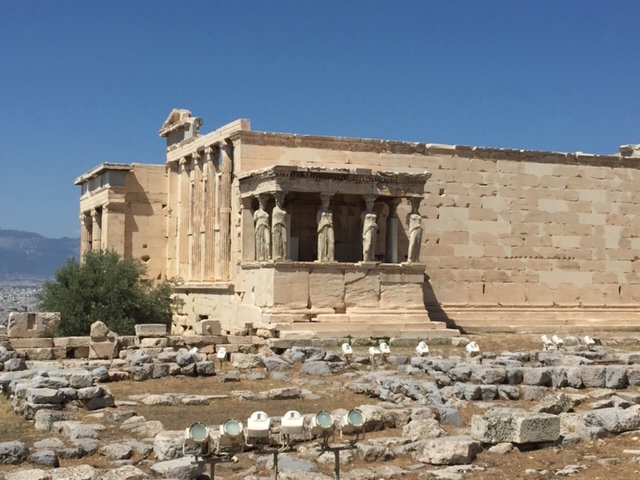 This was as close we got to this temple.
We spend about three hours wondering the Acropolis. And sadly, we arrived too late to tour the museum at the base of the Acropolis, which I heard is fabulous

.
"Are you history buffs?" asked our petite, curly-haired, perfectly English speaking tour guide as we set off in her BMW  SUV up the Peloponnese coast. "I can talk for hours and give you all the local history if you like."
"Yes!" Four eager tourists shouted.
The blood of the ancient Spartans runs through the Mani people who live in the Peloponnese countryside. They were a tough people living in a harsh land too arid and rocky for farming.
The Mani is a culture of blood feuds, kick ass warriors, fierce family loyalty, and about a million miles ( well, maybe that's a bit of an exaggeration) of waist high rock walls built heater skelter to divide their wee bit of property.
Those are my olive trees, not yours!
Yes, our tour guide said, blood was spilled over olive trees and boundary lines.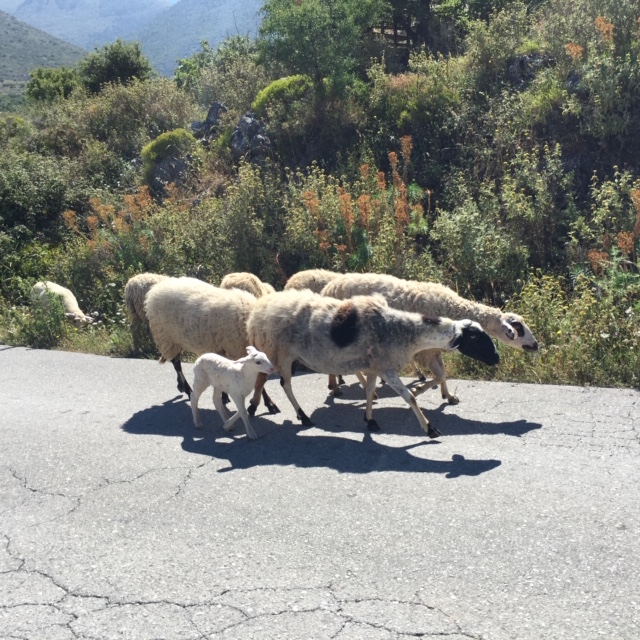 We passed lots of goats as the SUV snaked the narrow roads up the Peloponnese coastline.
And speaking of snakes…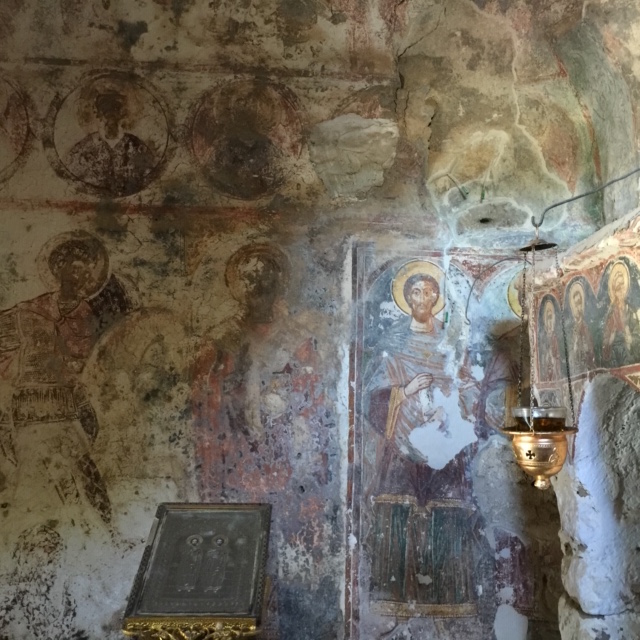 The tour guide thwacked a big thick stick against the doorframe before we entered these tiny–maybe 15 by 15 ft– churches to scare away the poisonous snakes.
She was exceptionally wary of snakes, not letting us venture into the scrub or grasses until she checked for snakes. 
And then there were always the scorpions to worry about…
The tiny chapels walls were covered floor to ceiling with Byzantium style artwork of incredible color and detail.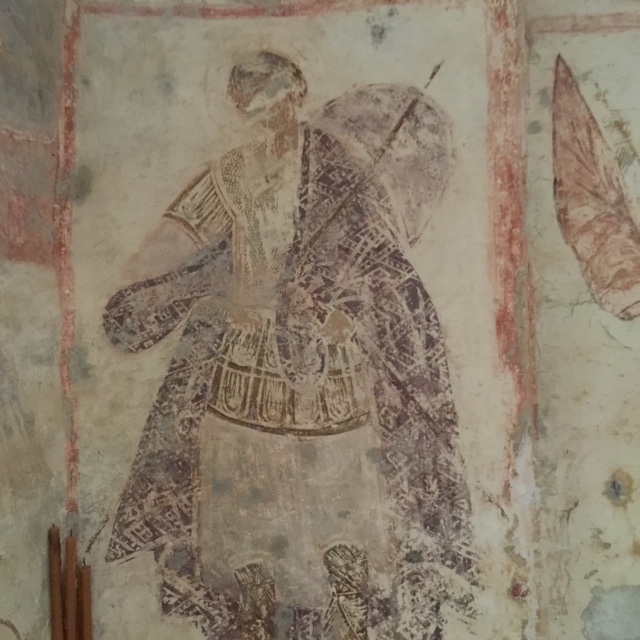 We stopped at Diros where we climbed onto small boats, and rowers guided us through the waist-deep water into a confusing maze of gorgeous caves.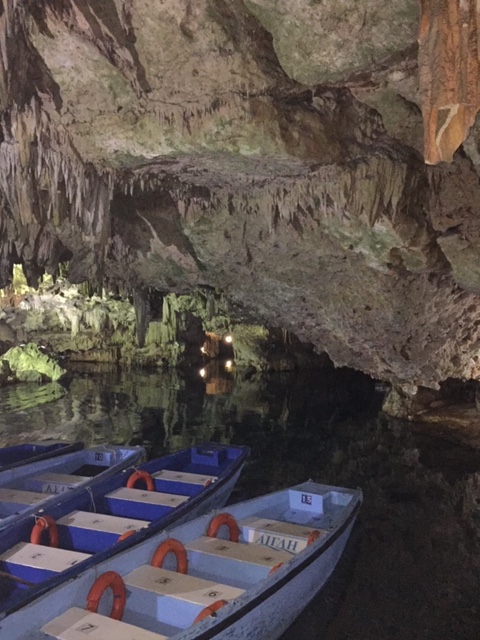 We passed a lot of sleepy little towns that sadly, giant hotel chains are buying up. Good for the villagers, it puts much needed money in their pockets. Not so good when you realize many such places will lose their charm and history to tourist dollars.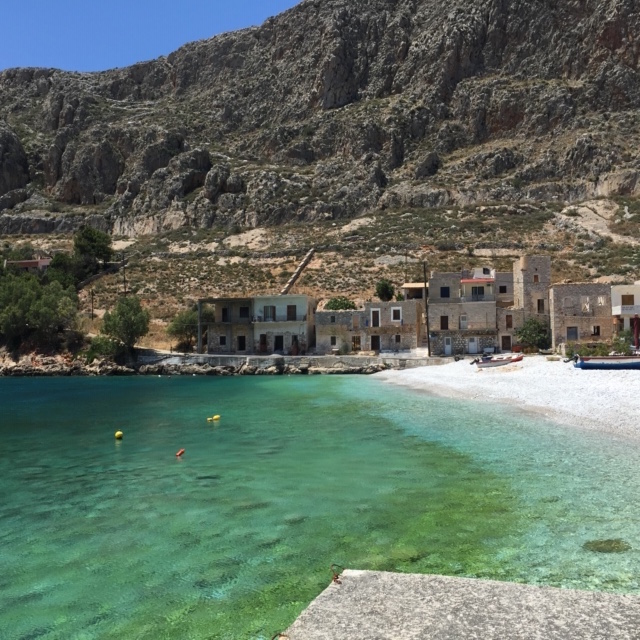 There are many sunken pirate ships in the small bays along the coast. A haven for scuba divers. From the road above we could see a few of them.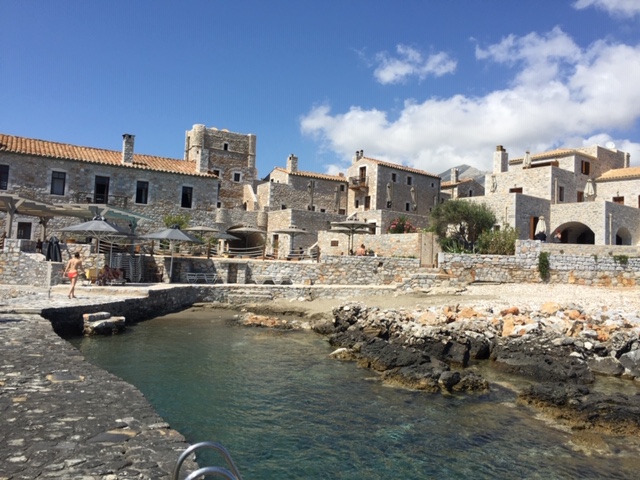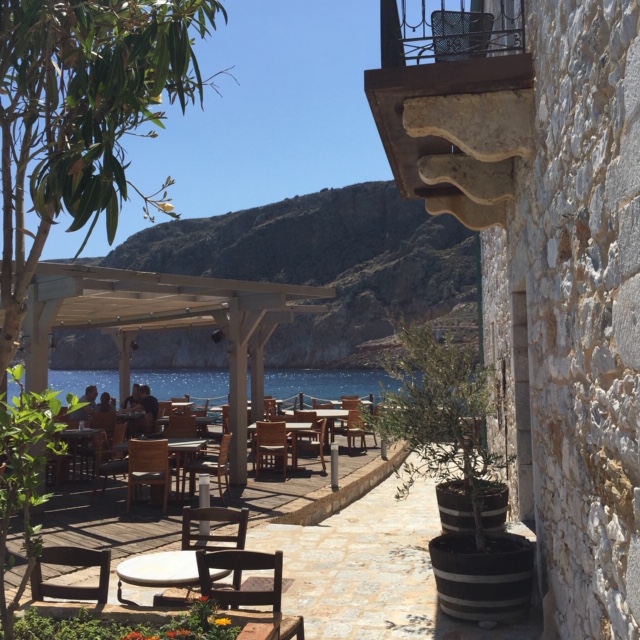 Our day tour ended at this fabulous hotel in Oitylo where, I swear, I plan on coming back to write a novel or two.
A trip to our friend's ancestral hometown the following day ended with a meandering walk through the town's cemetery. 
In a blink of an eye, our Greek trip flew by.
We dined on Aegean fish caught that day by local fisherman, gorged on succulent enormous octopus, slurped delicious Greek coffee, supped on many local Greek dishes, drank too much ouzo, and danced the night away at a local Greek club. 
I guess the muses worked overtime on this writer, because I got several solid stories ideas from the trip. A historical fiction of a famous but not well known event of one the places we visited.  A plot  setting idea for the fourth book of my paranormal romance series ( written under another pen name.) And several sexy ideas for future historical erotica!
Any trip that provides that kind of fun and creativity is definitely SEXY!
Stay tuned for my next Sexy Vacations blog when I'll be writing about Costa Rica.